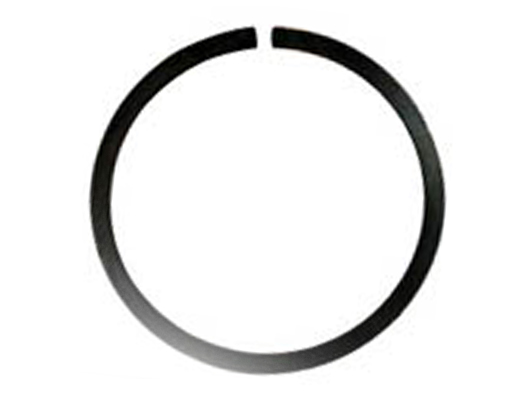 Product Descriptions
Snap rings are also termed as retaining rings or retaining snap rings. They are fixed to shafts or on a Bearing Sleeve.Snap rings are available in carbon steel and Stainless Steel, but mainly in Carbon Steel. Snap rings are useful in bores and shafts. We offer snap rings in various sizes as per requirement of customer.They are also useful in assembling needle bearings. They are made up of carbon steel.
It is just a fastener which is used to hold different components and assemblies onto a shaft or in a housing or bore when it is installed in a groove.
In this case roller bearing housings can be drilled through smoothly. One more characteristic is they have short axial mounting length. These bearings are according to DIN 616
INDICATIVE NUMBER - DIN 5417
APPLICATIONS :
Engineering Industry, Bearing Manufacturing Units etc.
DIN 5417
Nominal
dimension

Bearing
Outer dia.
D
s
Toler-
ance
b
Toler-
ance
d3
Toler-
ance
e
r
min.
Coefficient
K
(kg x mm)
Weight
(kg/1,000)
d2
Toler-
ace
m
Toler-
ance
30
1.12
-0.1
3.25
-0.15
27.6
+0.2
3
0.5
3200
2.78
28.17
-0.25
1.35
+0.3
32
1.12
-0.1
3.25
-0.15
29.6
+0.2
3
0.5
3000
2.98
30.15
-0.25
1.35
+0.3
35
1.12
-0.1
3.25
-0.15
32.5
+0.2
3
0.5
2800
3.22
33.17
-0.25
1.35
+0.3
37
1.12
-0.1
3.25
-0.15
34.1
+0.2
3
0.5
2660
3.36
34.77
-0.25
1.35
+0.3
40
1.12
-0.1
3.25
-0.15
37.1
+0.2
3
0.5
2420
3.60
38.10
-0.25
1.35
+0.3
42
1.12
-0.1
3.25
-0.15
39.0
+0.3
3
0.5
2340
3.75
39.75
-0.25
1.35
+0.3
47
1.12
-0.1
4.04
-0.15
43.7
+0.3
4
0.5
2560
5.30
44.60
-0.25
1.35
+0.3
50
1.12
-0.1
4.04
-0.15
46.7
+0.3
4
0.5
2430
5.78
47.60
-0.25
1.35
+0.3
52
1.12
-0.1
4.04
-0.15
48.7
+0.3
4
0.5
2340
5.92
49.73
-0.25
1.35
+0.3
55
1.12
-0.1
4.04
-0.15
51.4
+0.4
4
0.5
2200
6.17
52.60
-0.25
1.35
+0.3
55*
1.70
-0.1
4.04
-0.15
51.4
+0.4
4
0.5
7700
9.39
52.60
-0.25
1.90
+0.3
56
1.12
-0.1
4.04
-0.15
52.4
+0.4
4
0.5
2180
6.45
53.60
-0.25
1.35
+0.3
58
1.12
-0.1
4.04
-0.15
54.4
+0.4
4
0.5
2100
6.67
55.60
-0.25
1.35
+0.3
62
1.70
-0.1
4.04
-0.15
58.4
+0.4
4
0.5
6900
10.50
59.61
-0.25
1.90
+0.3
65
1.70
-0.1
4.04
-0.15
61.4
+0.4
4
0.5
6600
11.00
62.60
-0.25
1.90
+0.3
68
1.70
-0.1
4.85
-0.15
63.5
+0.4
5
0.7
7500
12.60
64.82
-0.50
1.90
+0.3
72
1.70
-0.1
4.85
-0.15
67.5
+0.4
5
0.7
7100
14.70
68.81
-0.50
1.90
+0.3
75
1.70
-0.1
4.85
-0.15
70.5
+0.4
5
0.7
6700
15.30
71.83
-0.50
1.90
+0.3
80
1.70
-0.1
4.85
-0.15
75.5
+0.4
5
0.7
6400
16.30
76.81
-0.50
1.90
+0.3
85
1.70
-0.1
4.85
-0.15
80.3
+0.5
5
0.7
6100
17.50
81.81
-0.50
1.90
+0.3
90
2.46
-0.1
4.85
-0.15
85.3
+0.5
5
0.7
17400
26.60
86.79
-0.50
2.70
+0.3
95
2.46
-0.1
4.85
-0.15
90.3
+0.5
5
0.7
16400
28.20
91.82
-0.50
2.70
+0.3
100
2.46
-0.1
4.85
-0.15
95.3
+0.5
5
0.7
15500
29.20
96.80
-0.50
2.70
+0.3
110
2.46
-0.1
4.85
-0.15
105.3
+0.5
5
0.7
14300
32.80
106.81
-0.50
2.70
+0.3
115
2.46
-0.1
4.85
-0.15
108.6
+0.5
5
0.7
13600
34.40
111.81
-0.50
2.70
+0.3
115*
2.82
-0.1
7.21
-0.15
108.6
+0.5
7
0.7
30100
56.80
110.20
-0.50
3.10
+0.3
120
2.82
-0.1
7.21
-0.15
113.6
+0.5
7
0.7
29000
60.60
115.21
-0.50
3.10
+0.3
125
2.82
-0.1
7.21
-0.15
118.6
+0.5
7
0.7
28000
63.00
120.22
-0.50
3.10
+0.3
130
2.82
-0.1
7.21
-0.15
123.5
+0.6
7
0.7
27000
65.60
125.22
-0.50
3.10
+0.3
140
2.82
-0.1
7.21
-0.15
133.5
+0.6
7
0.7
25000
70.60
135.23
-0.50
3.10
+0.3
145
2.82
-0.1
7.21
-0.15
138.5
+0.6
7
0.7
24000
73.00
140.23
-0.50
3.10
+0.3
150
2.82
-0.1
7.21
-0.15
143.5
+0.6
7
0.7
23500
77.20
145.24
-0.50
3.10
+0.3
160
2.82
-0.1
7.21
-0.15
153.5
+0.6
7
0.7
22000
81.00
155.22
-0.50
3.10
+0.3
170
3.10
-0.1
9.60
-0.15
161.8
+0.6
10
0.7
36000
122.00
163.65
-0.50
3.50
+0.3
180
3.10
-0.1
9.60
-0.15
171.8
+0.6
10
0.7
34500
128.00
173.66
-0.50
3.50
+0.3
190
3.10
-0.1
9.60
-0.15
181.6
+0.7
10
0.7
32800
139.00
183.64
-0.50
3.50
+0.3
200
3.10
-0.1
9.60
-0.15
191.6
+0.7
10
0.7
31200
148.00
193.65
-0.50
3.50
+0.3
210
3.10
-0.1
9.60
-0.30
201.6
+0.7
10
1.2
29800
156.00
203.60
-0.50
3.50
+0.3
215
3.10
-0.1
9.60
-0.30
206.6
+0.7
10
1.2
28800
165.00
208.60
-0.50
3.50
+0.3
225
3.50
-0.1
10.00
-0.30
215.0
+0.7
10
1.2
41400
195.00
217.00
-0.50
4.50
+0.4
230
3.50
-0.1
10.00
-0.30
220.0
+0.7
10
1.2
40600
200.00
222.00
-0.50
4.50
+0.4
240
3.50
-0.1
10.00
-0.30
230.0
+0.7
10
1.2
39200
208.00
232.00
-0.50
4.50
+0.4
250
3.50
-0.1
10.00
-0.30
240.0
+0.7
10
1.2
37300
217.00
242.00
-0.50
4.50
+0.4
260
3.50
-0.1
10.00
-0.30
249.0
+0.8
10
1.2
36200
226.00
252.00
-0.50
4.50
+0.4
270
3.50
-0.1
10.00
-0.30
259.0
+0.8
10
1.2
34800
234.00
262.00
-0.50
4.50
+0.4
280
3.50
-0.1
10.00
-0.30
269.0
+0.8
10
1.2
33500
243.00
272.00
-0.50
4.50
+0.4
290
3.50
-0.1
10.00
-0.30
279.0
+0.8
10
1.2
32300
252.00
282.00
-0.50
4.50
+0.4
300
4.50
-0.2
12.00
-0.30
286.0
+0.8
10
1.5
79500
394.00
290.00
-0.50
5.50
+0.5
310
4.50
-0.2
12.00
-0.30
296.0
+0.8
10
1.5
77000
407.00
300.00
-0.50
5.50
+0.5
320
4.50
-0.2
12.00
-0.30
306.0
+0.8
10
1.5
74700
420.00
310.00
-0.50
5.50
+0.5
340
4.50
-0.2
12.00
-0.30
326.0
+0.9
10
1.5
70200
446.00
330.00
-0.50
5.50
+0.5
350
4.50
-0.2
12.00
-0.30
345.0
+0.9
10
1.5
66000
473.00
350.00
-0.50
5.50
+0.5
370
4.50
-0.2
12.00
-0.30
355.0
+0.9
10
1.5
64000
486.00
360.00
-0.50
5.50
+0.5
380
4.50
-0.2
12.00
-0.30
365.0
+0.9
10
1.5
63000
498.00
370.00
-0.50
5.50
+0.5
400
4.50
-0.2
12.00
-0.30
385.0
+0.9
10
1.5
60100
525.00
390.00
-0.50
5.50
+0.5