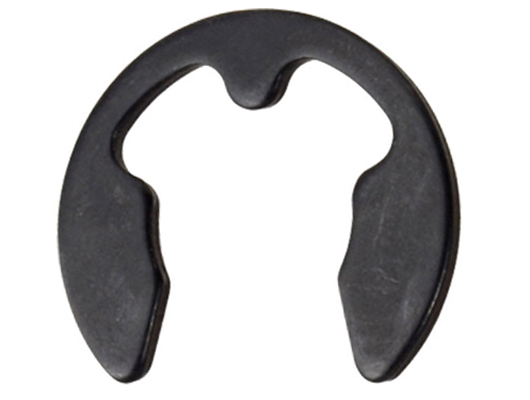 Product Descriptions
A retaining ring is a fastener that holds components or assemblies onto a shaft or in a housing/bore when installed in a groove. Once installed, the exposed portion acts as a shoulder which retains the specific component or assembly.
INDICATIVE NUMBER - DIN 6799
APPLICATIONS :
Mechanical Engineering, Automotive Engineering, Gear Systems,Gear Boxes, Electrical engineering, Precision mechanics, Apparatus engineering, In spline shafts etc.
DIN 6799
Nominal
dimension

RS Retaining Rigs DIN 6799

Shafts

Axial load
capacity for d3
in kg.

dia. d1

d2 loaded

a
H 10

s

Toler- ance

Weight
(kg/1,000)

d3
from

d3
to

d4
h 11

M

Toler - ance

N
min.

Axial Load
capacity for d3 in kg


min.dim.

Max.dim

0.8

2.0

0.58

0.2

+0.02

0.003

1.0

1.4

0.8

0.24

+0.02

0.4

2

3

1.2

3.0

1.01

0.3

+0.02

0.010

1.4

2.0

1.2

0.34

+0.02

0.6

4

8

1.5

4.0

1.28

0.4

+0.02

0.020

2.0

2.5

1.5

0.44

+0.02

0.8

7

12

1.9

4.5

1.61

0.5

+0.02

0.030

2.5

3.0

1.9

0.54

+0.02

1.0

10

20

2.3

6.0

1.94

0.6

+0.02

0.070

3.0

4.0

2.3

0.64

+0.02

1.0

14

32

3.2

7.0

2.70

0.6

+0.02

0.090

4.0

5.0

3.2

0.64

+0.02

1.0

20

45

4.0

9.0

3.34

0.7

+0.02

0.165

5.0

7.0

4.0

0.74

+0.02

1.2

30

65

5.0

11.0

4.11

0.7

+0.02

0.234

6.0

8.0

5.0

0.74

+0.02

1.2

40

75

6.0

12.0

5.26

0.7

+0.02

0.240

7.0

9.0

6.0

0.74

+0.02

1.2

50

100

7.0

14.0

5.84

0.9

+0.02

0.481

8.0

11.0

7.0

0.94

+0.02

1.5

60

120

8.0

16.0

6.52

1.0

+0.03

0.660

9.0

12.0

8.0

1.05

+0.06

1.8

70

170

9.0

18.5

7.63

1.1

+0.03

1.030

10.0

14.0

9.0

1.15

+0.06

2.0

80

200

10.0

20.0

8.32

1.2

+0.03

1.120

11.0

15.0

10.0

1.25

+0.06

2.0

90

220

12.0

23.0

10.45

1.3

+0.03

1.650

13.0

18.0

12.0

1.35

+0.06

2.5

100

240

15.0

29.0

12.61

1.5

+0.03

3.000

16.0

24.0

15.0

1.55

+0.06

3.0

130

300